Select Parent
Select Child
Agile has been a buzzword amongst market research and insights professionals for some time. And like many buzzwords, it's not always clear exactly what it means or whether it is being used consistently. So let's dispel the confusion because agile market research is so much more than just a buzzword - it is a powerful new approach to supporting business decisions that many companies throughout the industry are now using.
What is agile market research?
The term 'agile' comes originally from agile software development. This is an approach that recognised that traditional development methodologies were overly bureaucratic, took too long to plan, and focused on processes and documentation rather than getting a usable product out.
The agile approach turned this on its head and made development about the team, about communications and about an iterative process of 'test and learn.' Instead of trying to get the whole software product right in one go, the agile development approach broke it down into smaller pieces and focused on continuous development.
Because the agile approach has proved much more efficient and productive and yielded better products, it has been adapted for project management in other disciplines and industries.
Agile research is of particular value when used for innovation research or concept testing - anything creative that benefits from multiple tests with customers to create a feedback loop and fine-tune the development project.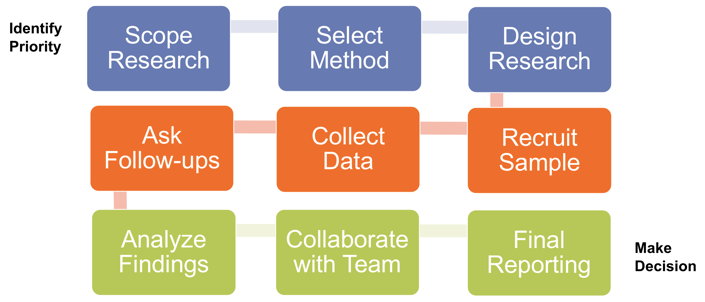 Source - Google
Characteristics of agile market research
Agile research is an ideal approach for the market research and insight sector because there are many parallels between traditional research methods and traditional software development: traditional research tended to be conducted using methods that took a long time to plan and set up, were unchangeable once the fieldwork was underway, and involved a long wait for the results to be collated, analyses and reported.
Consequently, it was common for research efforts to be quite unfocused; if you were spending a significant proportion of your budget and your time conducting a large-scale study, it made sense to try and put all the research questions you could think of into the questionnaire or topic guide.
In contrast, an agile market research project is highly focused on specific questions, enabling them to be conducted faster and more efficiently.
In addition, agile market research means involving the stakeholder team much more closely in the research process. In traditional methods, the research and insights teams would take a brief from the stakeholders then go off and design the project, conduct the fieldwork and analyse the results before presenting them back to the stakeholder team.
In agile research, the stakeholders are involved at every step, working with the research and insights team as results as they come in, making decisions and then going into field again to research a new iteration of the product or concept.
Source: Survey Monkey
Benefits of agile market research
Because it is called 'agile market research' it can often be thought of as just anything that is faster than traditional methodologies. It is often the case that agile market research is fast - but that is not the only benefit. The main benefits come from the iterative approach which enables the research team and their stakeholders to test and learn, adjust and test again.
Additionally, because projects are fast and focused, they can be much more cost-effective than traditional projects. This again supports project and product teams in taking an iterative approach and testing multiple times.
The collaborative element is also a benefit. Agile projects should not be a box-ticking exercise, or a 'go/no go' gateway. Instead, they should be about testing much earlier and more often in the research life cycle - which necessitates a collaborative approach with the stakeholder team.
Multiple tests enable you to establish benchmarks and norms, to help you to judge the outcome of the research - not only how does this test measure up against earlier tests in the same project but, also, how does it compare with previous work?
For example, if you are testing marketing initiatives such as new packaging design concepts, you can work with the designers to make multiple changes to small elements of the design - a colour, a font, an image - and retest each of them, fine-tuning each time rather than having to create a set of fully-formed package designs in one go and compare them in a one-off project.
Agile market research methodologies
Both qualitative and quantitative methods lend themselves well to agile approaches to research.
Quantitative agile research
Online surveys are faster than traditional methods by definition, but speed is not enough to make them truly agile. Many suppliers now offer a market research platform that is specifically designed to facilitate agile market research projects.
A lot of platforms offer tools and templates designed to cut down the time take to create a survey script, ensure consistency across multiple surveys, and to build research expertise into DIY software.
They also offer instant recruitment from curated access panels to ensure that there is always sufficient sample available to turn surveys around in a matter of hours rather than days or weeks.
They also typically offer dashboards so that anyone involved in the project can get an early read on the data and can compare across studies with ease.
All of these features support an agile market research approach.
Qualitative agile research
It might seem that qualitative research is the opposite of agile. Traditional focus groups and depth interviews take time to recruit and are labour intensive. However, online qualitative research approaches such as online communities are a good fit for agile market research for a number of reasons.
Qualitative research is essential for creative development projects as it gives you the freedom to explore people's feelings and motivations, which gives you rich consumer insights.
Once you have set up an online community, and recruited the members, they will be instantly available to conduct research. This will faciliate asking focused one-off questions, and getting repeat feedback to help with business decisions.
If you need to get more in-depth insights it is fast and simple to convene focus groups with specific community members, assign new tasks and activities and even set up a new research project.
Conducting agile research
As we've stressed, conducting an agile research project is not just about conducting a traditional project, but faster. It is not so much about an agile methodology or different tools; it's more about having an agile mindset . It requires the research team to work in a flexible and collaborative fashion with creative teams and other stakeholder teams to leverage the power of continuous improvement. Everyone is on the same side - the side of better innovation and faster, more iterative testing and development and quicker, more effective decision making
Speak to our team and learn more about how we use agile research techniques across projects or to discuss agile research more broadly.